PASAY CITY, Metro Manila- "The presence of health research in the regions is now more evident," thus emphasized by Executive Director Jaime Montoya in the recent celebration of the 35th anniversary of the Philippine Council for Health Research and Development (PCHRD) on 17 March 2017 at the Philippine International Convention Center.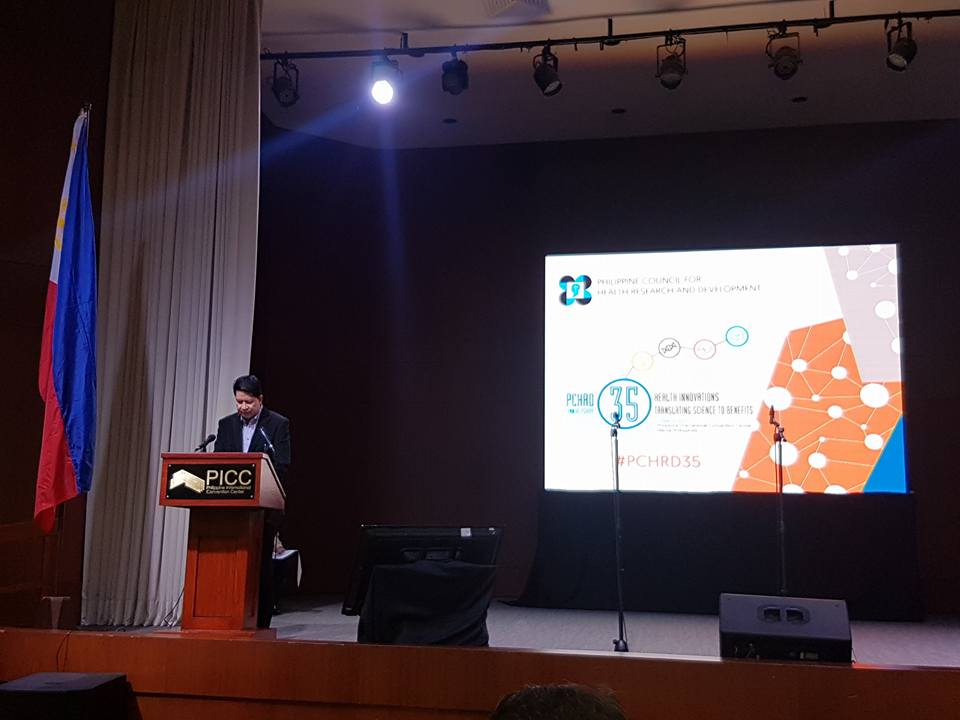 According to Dr. Montoya, the event is more than an anniversary but a celebration of the commitment and dedication of the Council to carry out programs which enhance research productivity. He then cited various accomplishments of the Council including the 10 Tuklas Lunas Development Centers established in seven regions, 1000 RxBox devices to be deployed to 1,000 health centers across the country, and expansion of eHATID project to HATID ASEAN (Health Technologies for Informed Decision making in the Association of South East Asian Nations).
Responding to the impact of disasters and climate change on health in the country, the Council also added Disaster Risk Reduction and Climate Change Adaptation for Health (DRR-CCA Health) as new priority area for research. As the secretariat of the Philippine Health Research Ethics Board (PHREB), PCHRD also accredited 48 research ethics committees.
Dr. Montoya also shared that the Council will disseminate the PNHRS Guidelines for Health Research Prioritization to research institutions across the country. "It is with great hope that through this document, our research institutions and regional research consortia will be more empowered in terms of preparation, implementation, and post-implementation of their research agenda," he added.
Discussing the celebration's theme, Dr. Montoya emphasized that research process does not end with project completion alone but should be translated into quantifiable outputs that empower beneficiaries to take care of their health.
"The accomplishments of PCHRD are the results of the hard work of its dedicated people and committed partners," Dr. Montoya said as he urged the people and partners of the Council to continue giving their best and working with greater passion. n