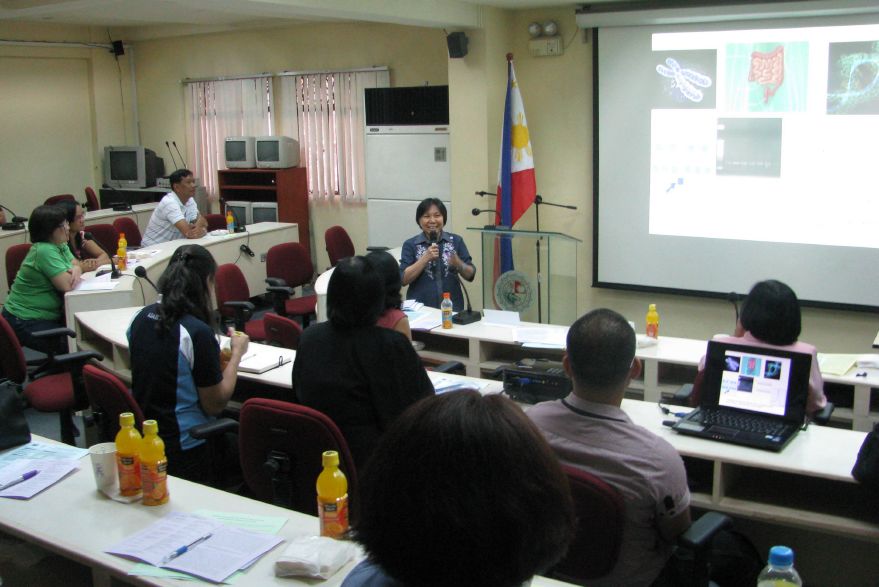 Last May 04, 2012, the Metro Manila Health Research and Development Consortium (MMHRDC), in collaboration with the Pamantasan ng Lungsod ng Maynila (PLM), in celebration of the Cancer Awareness Month, held its 2nd quarter research forum with the theme "In depth with the BIG C: A Research Forum on Cancer" at the Gusaling Atienza, Pamantasan ng Lungsod ng Maynila.
The forum showcased research works of experts from the 25 member-institutions of the Consortium to provide a venue for collaboration among stakeholders to address research gaps on cancer.
Dr. Sonia Jacinto, Anticancer Natural Products Professor of the University of the Philippines-Diliman (UPD) presented her research "Philippine Plants Showing Cytotoxic Activity to Selected Human Cancer Cell Lines." The research studied the cytotoxic property of Philippine plant extracts on human cancer cell lines to determine their potential as chemotherapeutic agents against cancer.
"We have tested a number of crude extracts from different plant leaves and found some with potent cytotoxic property against human cancer cell lines. One plant that has yielded cytotoxic compounds is Calotropis gigantea or kapal-kapal in Tagalog," said Dr. Jacinto.
Dr. Maria Luisa Enriquez, Director of the Center for Natural Sciences and Ecological Research of the De La Salle University Manila tackled "Intratumoral heterogeneity of KRAS and P53 mutations Among Filipinos with Colorectal Cancer." Her research aimed to detect and characterize the gene mutations involved with colorectal cancer patients.
"Genes make proteins. Each protein has a function. If the genes are mutated, you will have an effective protein. If the protein is defective, it cannot function well. If it cannot function well, one of the outcomes is cancer," explained Dr. Enriquez.
Meanwhile, Dr. Eliza Raymundo, Clinical Associate Professor of University of the Philippines Manila of the Philippine General Hospital (UPM-PGH) discussed her study "Prostate Cancer and the Filipino: Risk Assessment and the Screening Controversy." Results revealed that Filipinos, among Asians, may have a high risk of developing and dying from prostate cancer (CaP) and may have similar risk of death from CaP as compared to Caucasians.
According to Dr. Raymundo, "Low detection rate in Filipinos were brought by the low prevalence of using prostate-specific antigen (PSA), a screening test to detect prostate cancer and also because of low economic capability of many Asian countries to avail the test."
Dr. Raymundo also identified the barriers in the early detection and treatment of cancer among Filipinos. "Filipinos were not that aware of the need for cancer screening. They are driven by fear in terms of cancer diagnosis and cost of treatment."
Despite the barriers, Mr. Romeo Marcaida, Head of the Patient Navigation Program of the Philippine Cancer Society (PCSI), is confident that the country can provide quality healthcare to Filipino cancer patients.
"There are a lot of barriers to healthcare, especially for Filipino cancer patients. This is one of the most expensive diseases in the country. We are trying to break barriers, by providing diagnostic services, quality facilities for patients and assistance on how to source out money to avail the drugs needed." he said.