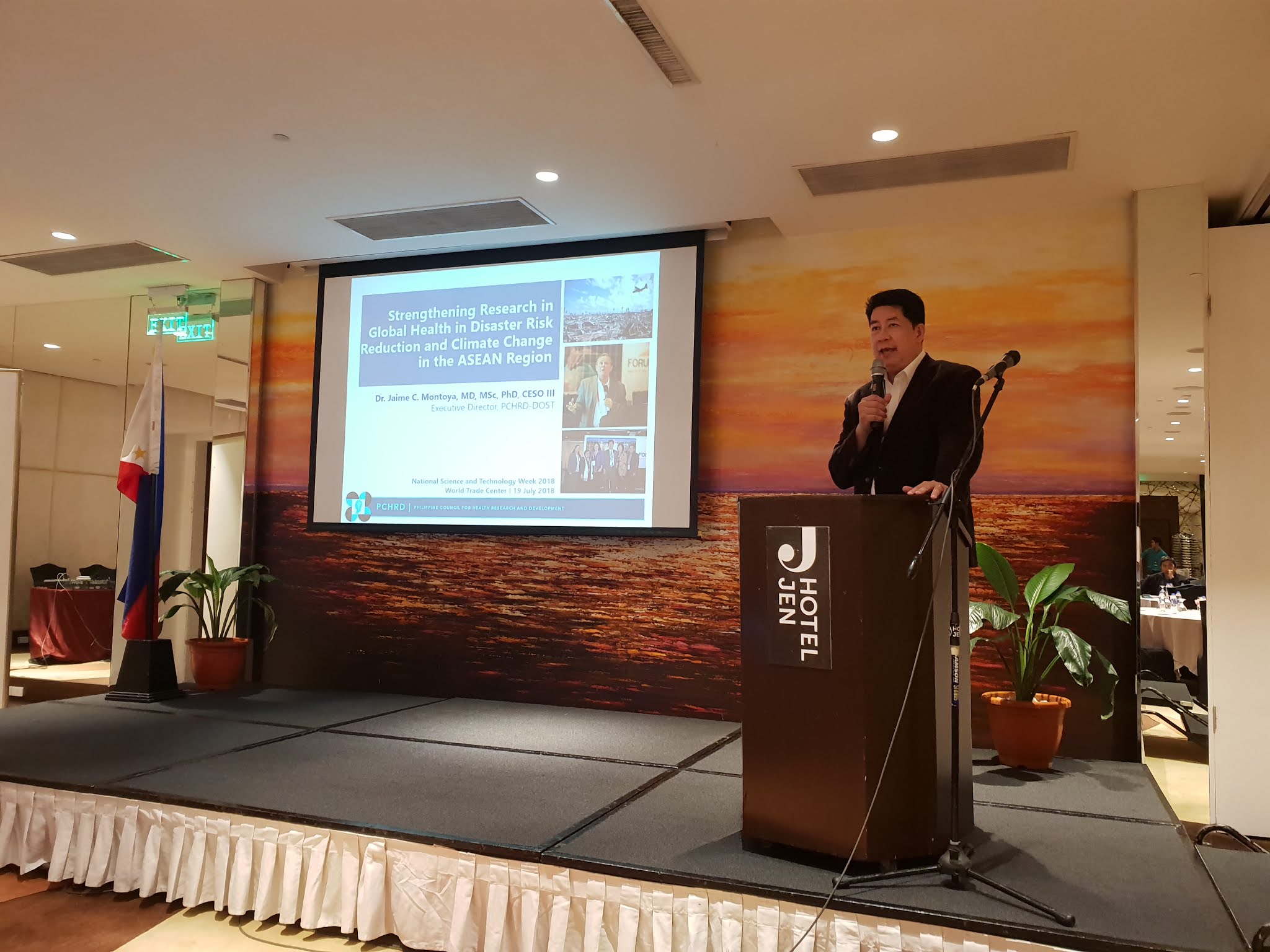 "With only few countries which have established global health research communities in disaster risk reduction (DRR) and climate change adaptation (CCA) in health in the ASEAN region, there is a need for research, education, and professional institutions in ASEAN countries to network and collaborate towards building training and research capacities in DRR and CCA," stressed Dr. Jaime C. Montoya, Executive Director of the Philippine Council for Health Research and Development (PCHRD during a two-day workshop on strengthening health research in disaster risk reduction and climate change adaptation on 19-20 July 2018 at Hotel Jen, Pasay City.
Organized by the DOST-PCHRD, in partnership with the Deutscher Akademischer Austauschdienst (DAAD) German Academic Exchange Service and Alliance for Improving Health Outcomes (AIHO), the workshop brought together significant people from both the academe and field experts of disaster risk management and climate adaptation to conceptualize a network that would serve as an overseeing body to various disaster risk initiatives in health research within the ASEAN region.
 Highlight of the first day was the panel discussion which tackled the advantages and challenges in establishing an educational research network.  Synergy of experience and expertise was mentioned as one of the advantages in having a network . However, initiative, team formation and engagement are critical areas in the creation of the network. The issue on how to make the network sustainable even with diversity of culture and background was also pointed out.  Assistant Professor Carlos Primero Gundran of the University of the Philippines Manila, Dr. Ronald Law of the Department of Health, Dr. Myo Nyein Aung of the Chunlalongkorn University, and Dr. Pauline Grys from Heidelberg University .
On the second day, workshop participants were grouped to gather insights on the needs, concrete benefits, disadvantages, purpose, and sustainability in establishing a research resiliency network in the country.The output of the workshop is an initial document that would serve as the backbone in the establishment of the DRRM-H and CCA Resiliency Network.
 PCHRD and AIHO showed their commitment  to support the formation and cause of the network. As PCHRD Research Information Communication, Utilization Division (RICUD) Chief Ms. Merlita Opeña puts it, "The Council is very committed to the creation of the network for DRRM-H and CCA because this will facilitate research studies and research results that will deliver outcomes for the benefit of the ASEAN."


Details
Written by Catherine Joy C. Dimailig
Created: 31 July 2018