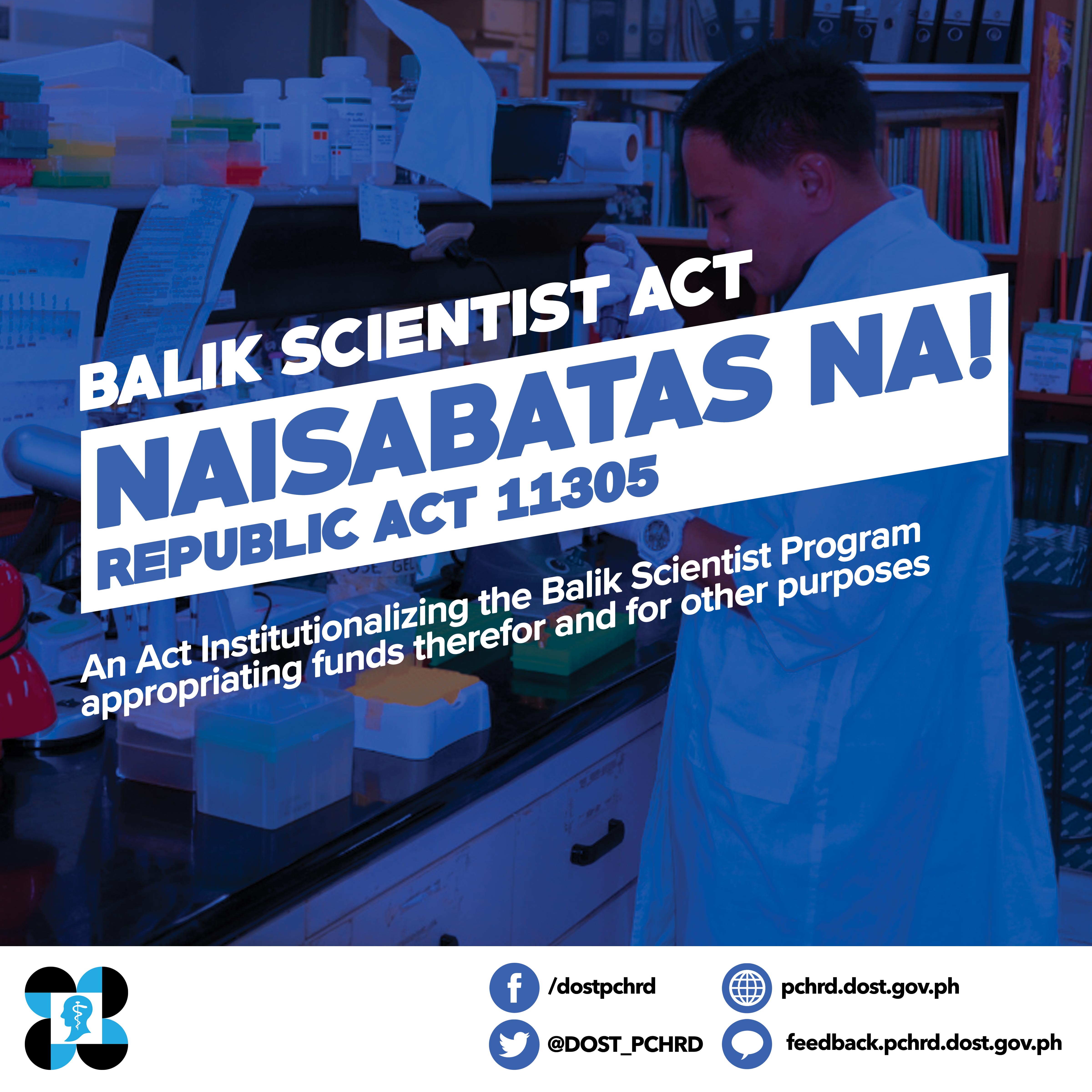 Science and technology sector celebrates another success with the President's signing of the "Balik Scientist Act" on 15 June 2018.  The Republic Act No. 11035 strengthens the implementation of the Balik Scientist Program (BSP) of the Department of Science and Technology (DOST) by providing incentives to foreign-based Filipino scientists who will go back to the country to transfer knowledge and share expertise.
Established in 1975, the BSP aims to promote information exchange and accelerate the flow of new technology into the country through strengthening the scientific and technological human resource of the academe, public, and private institutions.
The law mandates DOST to invite Filipino scientists across the globe to return and serve as experts and consultants in improving the science and technology agenda of the country. The Department approves and awards short-term, medium-term, and long-term commitment of returning scientist.
Among the benefits and incentives a 'Balik Scientist' can enjoy include exemption from licensing or permitting requirements from the Professional Regulation Commission, accident and medical insurance coverage, reimbursement of baggage expenses related to scientific projects, and exemption from renouncing their oath of allegiance to the country where they took oath, among others.
Meanwhile, scientists who commit to long-term engagement program receive special relocation benefits, tax and duty exemption to importation of one motor vehicle, personal and household effects, and professional equipment, admission support to the preferred schools of their minor children, assistance in securing job opportunities for their spouses, and monthly housing or accommodation allowance.
The Philippine Council for Health Research and Development (PCHRD), one of the implementing agencies of BSP, focuses on evaluating applicants for the health R&D sector. Since 2007, PCHRD was able to engage with 82 Balik Scientist specializing in various fields such as biochemistry, neuroscience, microbiology, and others.
Through this law, DOST and PCHRD hopes that more scientist will be encouraged to return and help aid the country in improving our S&T agenda through research and innovation.

Details
Written by Catherine Joy C. Dimailig