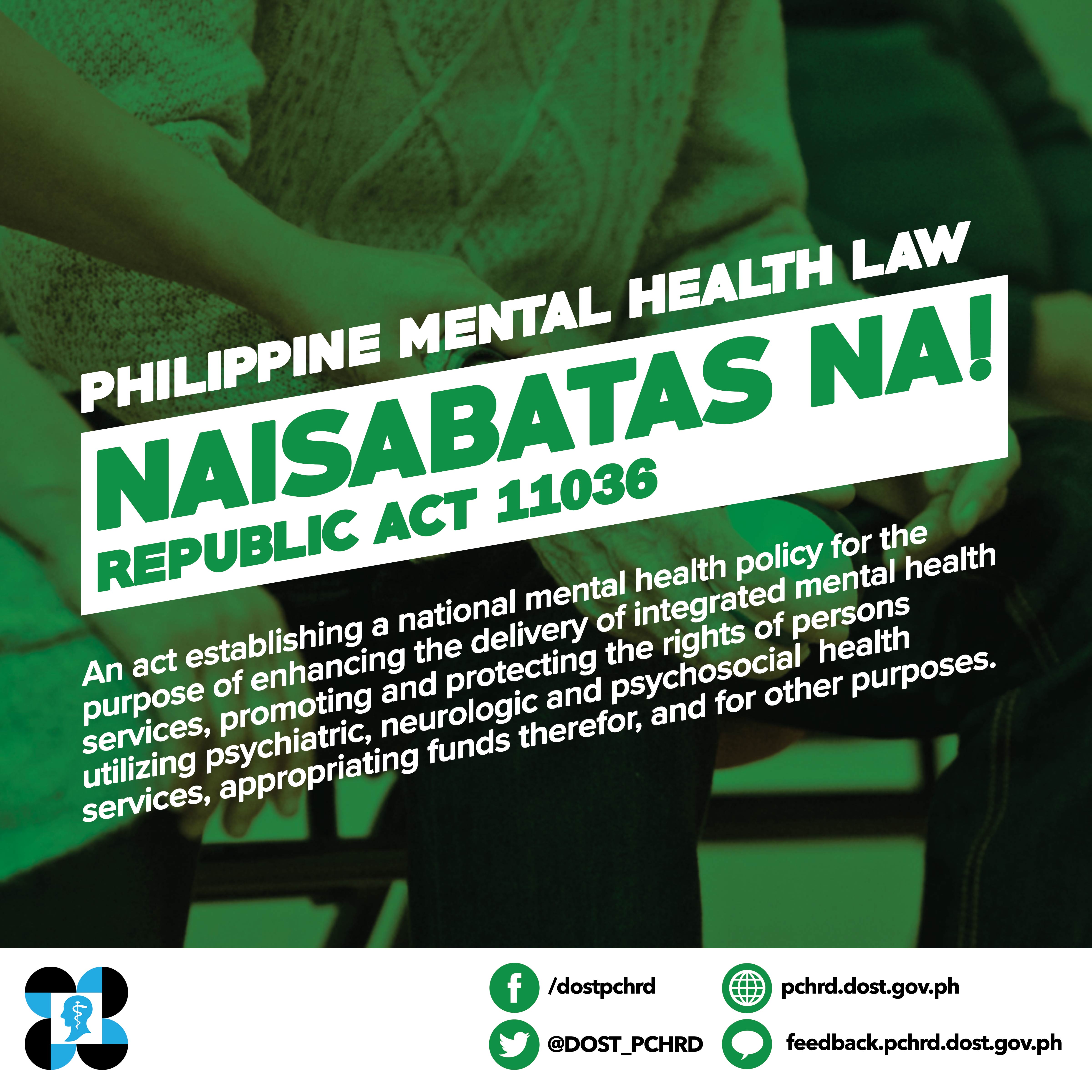 The country celebrates the approval of the Philippine Mental Health Law or Republic Act 11036 after it was signed by President Rodrigo Duterte on 21 June 2018.
Before the law, the Philippines belonged to the one quarter of countries in the world without legislation that supports mental health. The enactment of the Mental Health Act serves as a monumental step toward providing the necessary mental health services the population needs.
The law enables barangays to provide mental health services through the scaling up of community and grassroots mental health programs, integration of psychiatric, psychosocial, and neurological services in government hospitals, and promotion of mental health education in school and workplace.
In a country where mental health illnesses are listed as the 3rd most common cause of morbidity, RA 11036 will help address the needs of the growing population that only has 700 psychiatrists and 1000 psychiatric nurses serving it by securing the rights and welfare of mental health professionals.
Among other provisions in the law, schools and workplaces will be required to create programs and services on mental health education, while institutions and businesses will be given training on mental health to address the concerns of both students and employees.
While such enactment is a huge step in making mental health care more affordable and accessible, the law also highlighted the importance of research and development to gather evidences required to formulate and develop culturally-relevant national mental health program including indigenous knowledge and practices related to mental health. In conducting mental health research, the law emphasized that researchers must ensure that informed consent were sought and approved by an accredited ethics committee. Research on mental health is listed as a priority under the National Unified Health Research Agenda (NUHRA) 2017 – 2022.
Through this law, PCHRD hopes that research mental health could be further improved and supported, and the development of better policies, services, and programs will be enacted, paving the way to healthier and happier Filipino nation.
For more information on the grant services of the Council, please visit our website and  PCHRD Project Management System.


Details
Written by Reuben Andrew R. Razal
Created: 27 June 2018